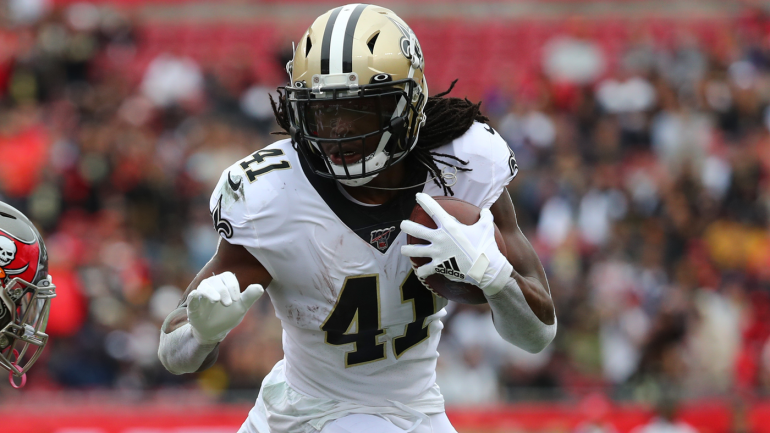 Last month, New Orleans Saints star running back Alvin Kamara pleaded no contest to a lesser misdemeanor charge stemming from a 2022 Las Vegas altercation. Wednesday, he is scheduled to sit down with NFL commissioner Roger Goodell to discuss the incident, per NFL.com.
The weekend of the 2022 Pro Bowl, Kamara was arrested in Las Vegas for battery resulting in substantial bodily harm. He pleaded not guilty to the initial battery charges, and the felony was later dropped after he agreed to plead no contest to breach of peace. The running back will reportedly have to complete community service and pay $100,000 to the victim for medical bills.
While the legal side to this issue is behind us, that does not mean Kamara has dodged punishment from the league. The NFL personal conduct policy states that everyone who is part of the league must refrain from, "Conduct detrimental to the integrity of and public confidence in the NFL."
What does that mean?
"Conduct by anyone in the league that is illegal, violent, dangerous, or irresponsible puts innocent victims at risk, damages the reputation of others in the game, and undercuts public respect and support for the NFL."
With Kamara and Goodell sitting down, it appears a resolution to this issue is indeed on the horizon. NBC Sports previously reported that Kamara was expected to receive a suspension of at least six games, but this was while the felony charge was still attached to his name.
"I think Alvin really wants to get out ahead of this and have a chance to visit with Roger and kind of give him his side of the story, and look, at the end of the day, I think part of it is, you know, let's get some resolution to where we're at and then let's move forward," Saints head coach Dennis Allen told reporters on Monday, per NFL.com. "So, I think Alvin, you know, is looking forward to putting this behind him and focusing in on what he has to do to be the best he can for our team this season.
"Yeah, look, I mean, we're working, practicing, getting better. Alvin's going to be a huge part of what we do this year. We'll take things in stride and how they happen. We'll deal with, you know, anything we have to deal with. We'll deal with it when the time's right."
Kamara is a five-time Pro Bowler and two-time All-Pro. The third-round pick out of Tennessee was named the 2017 NFL Offensive Rookie of the Year after racking up 1,554 yards from scrimmage and 13 total touchdowns.