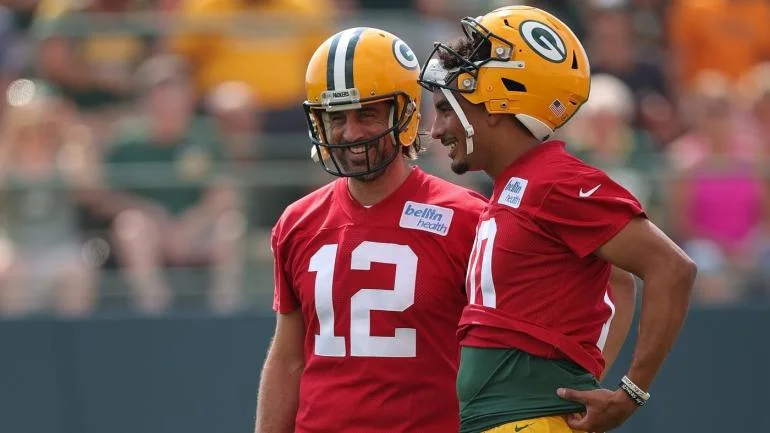 With Aaron Rodgers now the starting quarterback for the New York Jets after a trade this offseason, the Green Bay Packers will have a new starting quarterback in Week 1 — 2020 first-round pick Jordan Love — after 15 seasons of Rodgers. Teammate and Pro Bowl running back Aaron Jones described Love as "a true leader" ahead of Packers training camp opening this week. Love sat behind Rodgers for three seasons, observing Rodgers win NFL MVPs in two of them. Yet, Rodgers went out of his way to praise Love, calling him a "great one" during Thursday's Hall of Fame Game.
"I always felt like it was a part of the job to help those young guys out, and get them ready to play," Rodgers said Thursday during the Hall of Fame in an interview with NBC Sports announcers Mike Tirico and Cris Collinsworth. "There was a great one behind me in Green Bay [Jordan Love."
Following Love's first training camp practice as THE GUY on July 26, he revealed Rodgers, the Packers' longtime leader, contacted him Tuesday to encourage his Green and Gold successor and wish him well.
"Aaron reached out to me last night and that's exactly what he said. … He said 'just be yourself, have fun, enjoy it, that it's obviously my time now and to enjoy it.'"