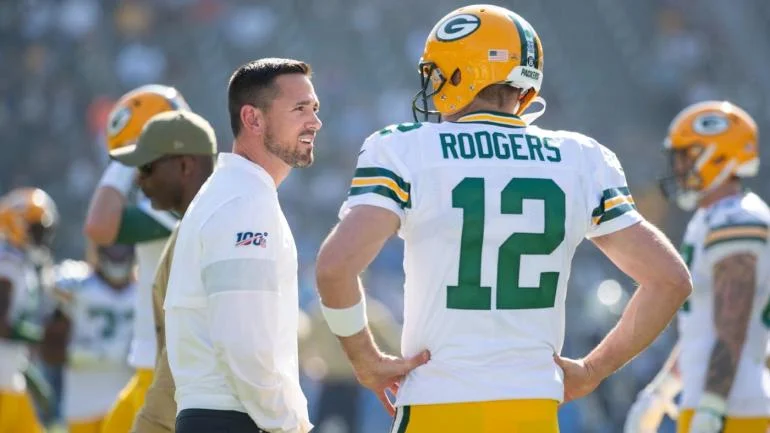 Even future Hall of Fame quarterback Aaron Rodgers, the Green Bay Packers all-time leader in passing touchdowns with 475 — now suiting up for the New York Jets in 2023 — has helped ensure Gang Green would have a cheesy vibe in 2023.
Eight former Packers are now a part of the Jets: Rodgers, offensive coordinator Nathaniel Hackett, wide receiver Allen Lazard, wide receiver Randall Cobb, wide receiver Malik Taylor, offensive tackle Billy Turner, quarterback Tim Boyle and safety Adrian Amos. Rodgers' new Jets head coach Robert Saleh even provides Rodgers a connection to his former Packers head coach Matt LaFleur: Saleh and LaFleur came up in the NFL together, and LaFleur was the best man at Saleh's wedding.
When asked if he would be keeping up with Rodgers and the Jets in HBO's "Hard Knocks" and throughout the 2023 season by NFL Network's Tom Pelissero, he interrupted Pelissero to nickname the 2023 Jets "Green Bay East." However, LaFleur then seriously answered the question by talking about having his hands full with his young Packers offense that is set to break in new starting quarterback Jordan Love.
😂😂😂😂😂 https://t.co/Ylmhe716JQ pic.twitter.com/IsH7unJ05k
— CheeseheadTV 🧀 (@cheeseheadtv) August 3, 2023
"I think we have enough to worry about with the Green Bay Packers, but certainly a lot people I care about in that organization and on that staff," LaFleur said Thursday, via NFL Network. "You always take account of what other teams are doing, especially guys you are close to in this league."