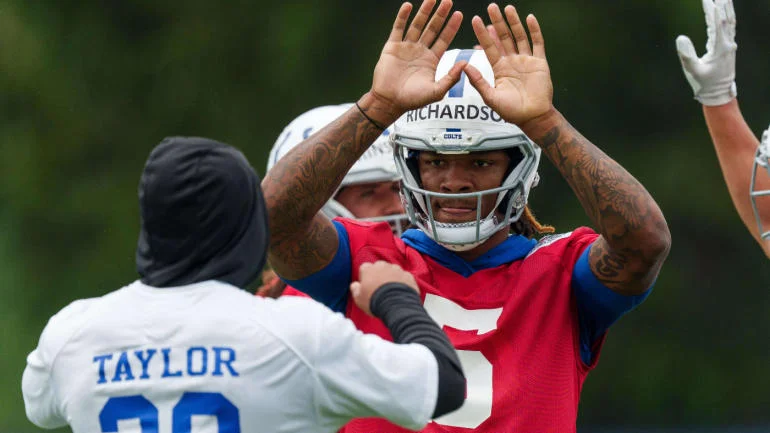 Before the Colts potentially trade Jonathan Taylor, they should think about what they could be walking away from.
While rookie quarterback Anthony Richardson is a bit of a mystery, he has a sky-high ceiling. With Taylor, they could form one of the most dynamic QB/RB rushing attacks in NFL history.
Richardson blew up the NFL combine with a 4.43 40-yard dash, 40.5-inch vertical and 10-foot, 9-inch broad jump at 244 pounds. He also ran for 654 yards and nine touchdowns while leading all FBS QBs in yards per rush (6.3) last year.
He can do this:
ANTHONY RICHARDSON WAS UNSTOPPABLE ✈️ pic.twitter.com/0EDr211DHI
— ESPN College Football (@ESPNCFB) October 16, 2022
Taylor won a rushing title in 2021 (1,811) while also leading the NFL in touchdown runs (18) before battling injuries in 2022.
He can make house calls too:
GOOD NIGHT INDY!
Jonathan Taylor makes a 67-yard house call to shut the door on the Patriots 🙌pic.twitter.com/Ih35dnqnnh
— ClutchPoints (@ClutchPoints) December 19, 2021
Colts head coach Shane Steichen was the Eagles offensive coordinator last year when Jalen Hurts and Miles Sanders helped Philadelphia finish fifth in rushing yards. Hurts led all quarterbacks in run-pass option (RPO) plays in each of the last two seasons, something you can expect a lot of from the Colts in 2023.
Those plays put defenders in conflict. Hypothetically, when Richardson sticks the football out to Taylor, defenders will be wondering at the mesh point whether Richardson is going to hand off, keep and run, or keep and throw.
All that would mean more running lanes for two of the most talented rushers at their respective positions.
Given the circumstances around Taylor and mystery around Richardson, it's a big IF, but can you imagine the possibilities for this electric, rushing combo if both play to their potential?
Lucky for you I've been dreaming up benchmarks and comparisons for the Colts' pair.
The ceiling for a rookie Richardson and Taylor this year is Robert Griffin III and Alfred Morris. The duo rode the zone-read option to a playoff appearance and combined for 2,428 rushing yards in both of their rookie seasons in 2012, the most combined rushing yardage by a QB-RB pair in a season in NFL history according to SportRadar. They are also the only duo in NFL history to feature a QB with 500 rushing yards and a RB with 1,500 rushing yards in a season.
That got me and my fellow CBS Sports researcher Brian Coyle thinking about other rushing "clubs" for QB-RB combos. And this doesn't extend to just rookies.