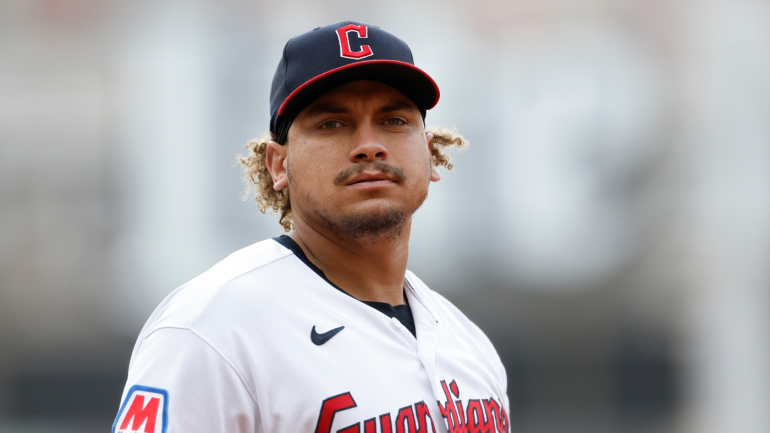 The Cleveland Guardians entered Friday 2 1/2 games behind the Minnesota Twins in the American League Central. If the Guardians are to make up that ground over the season's final two months, they'll have to do it largely without first baseman Josh Naylor, who is expected to miss between three and six weeks after suffering a strained oblique, according to Mandy Bell of MLB.com.
Naylor, 26, had been one of the Guardians' best hitters this season. In 96 games, he'd batted .306/.346/.500 (133 OPS+) with 15 home runs and 79 RBI. The only qualifying Guardians player with a higher OPS+ than Naylor this season is superstar third baseman José Ramírez. Steven Kwan, at 104, ranks third.
The Guardians recently traded Josh Bell at the deadline. Incoming prospect Kyle Manzardo remains sidelined with his own undisclosed injury, meaning that the Guardians may have to continue deploying David Fry at the cold corner with a rotating cast assuming DH responsibilities.
Naylor isn't the only Guardians player slated to miss some time. Cleveland also placed young infielder Tyler Freeman on the injured list because of a strained shoulder. Freeman, 24, has hit .286/.344/.357 (97 OPS+) in 38 games.
In a pair of corresponding moves, the Guardians recalled infielder José Tena and obtained veteran outfielder Kole Calhoun from the Los Angeles Dodgers in exchange for cash considerations.
Tena, 22, will be making his big-league debut after appearing in just one game at the Triple-A level. In 81 prior games at Double-A, he batted .260/.353/.370 with four home runs and 16 stolen bases (on 23 attempts). Baseball America recently ranked Tena as the 13th best prospect in the Guardians farm system.
Calhoun, 35, was eligible to be traded after the deadline because he hasn't spent any time in the majors this season. In 58 games at the Triple-A level split between multiple organizations, he's hit .297/.376/.530. It's worth noting that Calhoun has not been an above-average hitter at the big-league level since 2020.
The Guardians will begin a three-game set against the Chicago White Sox on Friday night.